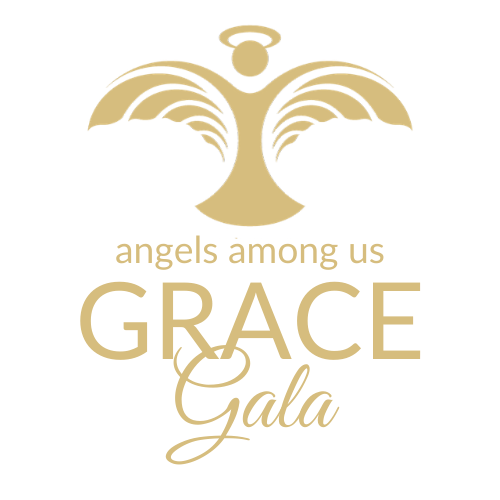 The 17th annual GRACE Gala, angels among us, is going virtual. For the first time ever, the prestigious and renowned black-tie affair will be available to everyone–in the world! The live streaming broadcast will begin at 7:00 p.m., Saturday, November 7, 2020.
"The GRACE Gala has always been a celebration of a year well served," said Shonda Schaefer, GRACE CEO. "This year, especially, our donors, volunteers, staff, and so many others, need this time to observe the challenges—and celebrate the successes—of 2020."
"We value our friends, guests, and sponsors a great deal," said Gala Co-Chair Tina De Vincenzo, "so we asked them for input and feedback." A survey of more than a thousand previous attendees, sponsors, and volunteers revealed that while a small percentage would come to an in-person gala in spite of the pandemic, the vast majority were unsure or outright favored a virtual GRACE Gala.
"While we would always prefer to see our friends face-to-face, the unprecedented safety concerns of COVID-19 have to be taken seriously," said Vic De Vincenzo, Gala Co-Chair and GRACE Board Member. "At the same time, the GRACE programs are more important now than ever before. We sincerely hope that this community will step up to support the good work being done at GRACE."
The celebration will take place in-studio and online in keeping with COVID-19 safety guidelines and the needs of our guests.
Laura Harris, NBC 5 anchor is hosting, and the same "wow" moments experienced at a live gala will be included in virtual form. Guests will see the stories of GRACE clients who have overcome extensive hardships with GRACE's help in order to make better lives for themselves and their families.
"We will feature the generosity of our donors and volunteers who have worked tirelessly to make sure our families receive the best care and support," said Schaefer. "Attendees will have the opportunity to meet some of the most inspiring and grateful clients served during these difficult times."
"A very special 'Angel of GRACE' will be announced. This honor will recognize the individuals who have gone above and beyond in support of this mission," said Schaefer. "As always, we will conclude the evening with a live auction and raffle drawing for some fabulous prizes."
Gala committees are now busy gathering silent and big board auction items that the GRACE Gala is best known for. Attendees will find on-line bidding to be simple, exciting, and easy to use. "Our online guests can vie for the same great experiences, exotic vacations, fun one-of-a-kind packages, and, of course, first chance at a table to the 2021 GRACE Gala," said Schaefer.
"We are building the same 'real time' bidding experiences into the Live Auction," said Schaefer. The award winning Phillip Pierceall of Swing City Auction will serve as the night's auctioneer.
Schaefer and her staff have been working on making the virtual experience sensational for the guests, as well. From inception, Schaefer has called the concept "Gala In a Box", and the name has stuck.
Those who purchase "tables" either through a sponsorship or a table purchase will receive special packages on their doorsteps. Included will be Gala wines, Gala stemmed flutes, GRACE facemasks, Gala programs, and other party essentials, including a gift certificate for a local caterer.
"It's all you will need to have a Gala 'Watch Party'," said Schaefer. "With masking and proper social distancing, of course."
You won't want to miss this unique event! Sponsorships are still available and come with additional promotional benefits. Sponsorship levels and more information are at GRACE Gala 2020 or contact Christina Cates at 817-305-4672.